This page is the brochure for your selected program. You can view the provided information for this program on this page and click on the available buttons for additional options.
Argentina: Universidad del Salvador (USAL)
Buenos Aires, Argentina
(Exchange Program) (Outgoing Program)
Universidad del Salvador (USAL)

Program Information | Requirements | Academics | Support Services | Housing | Cost Estimates | Resources
Program Information
The University at Albany has an exchange partnership with the Universidad del Salvador in Buenos Aires, Argentina. This program is only offered during the academic year, and is for Advanced/Fluent Speakers.
Universidad del Salvador operates on a tradition of academic excellence offering coursework to international students with a high level of Spanish language fluency. Immersion into regular classes with degree seeking students will allow international Students to improve their knowledge and understanding of local and regional affairs, to concentrating on Latin American arts, culture, history, politics, Spanish business, and literature. Students will find USAL to be a perfect match to suit and achieve their academic goals within these areas.
Since Argentina is located below the equator, their seasons are oposite from ours and perhaps more importantly, their academic year begins in our spring and ends in our fall. For students interested in participating in our fall semester, the program runs from late July to early November. For students wishing to participate in our spring semester, the program begins in April and runs through the end of July.

Requirements
Students who apply to this program must have high intermediate Spanish language skills. Advanced and or fluent Spanish language skills is ideal. All students must have taken at least 5 semesters of college level Spanish, or the equivalent.
A 3.0 GPA is required. This program is very competitive and requires that students have a strong desire to compete at the academic level with native students in disciplines other than just language and culture classes. Applicants must be independent, self-reliant and pay attention to details in order to succeed at USAL.
USAL offers a variety of coursework for exchange students. The list below is the most popular offerings with our students:
Español para extranjeros
Lengua y Literatura
Publicidad y Periodismo
Economía
Ética y Teología
Historia
Política
Arte y cultura
Click the following link for courses taught in English:
USAL Courses in English
These classes are taken with local students. Along with these courses, USAL encourages students to take a Low-Intermediate (A2) Spanish class, which includes contents about Argentinean history and culture.
Please visit the following important links for more information:
Credits from the host university will be converted to SUNY credits as follows:
1 SUNY credit per every 15 hours completed, reported as "horas totales"
48 hours = 3 credits
64 hours = 4 credits
Grades from the host university will be converted to SUNY grades as follows:
| | | |
| --- | --- | --- |
| USAL | Description | UAlbany |
| 10 | Sobresaliente | A |
| 8 and 9 | Distinguido | A- |
| 6 and 7 | Muy Bueno | B |
| 5 | Aprobado | C |
| 4 | Aprobado | D |
| 1,2,3 | Aplazo - Desaprobado - No Aprobo | E |

General Education Information for UAlbany students: credits earned on this program will automatically satisfy the International Perspectives requirement. Three credits of foreign language study will satisfy the Foreign Language requirement. No additional approval is required for you to earn these General Education credits. You may file a request to have additional courses approved.

Support Services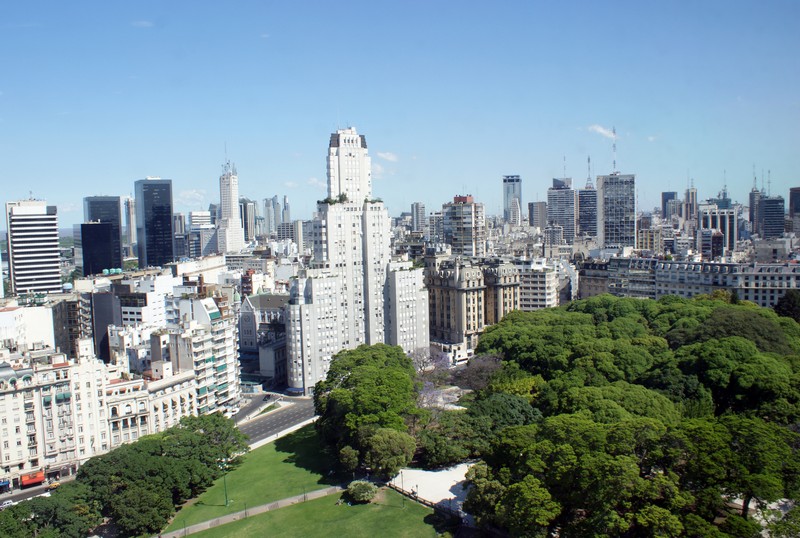 All international students attend a mandatory orientation before beginning classes. A full staff is also designated to international students and is available for academic and personal counseling.
Outside of the International Office, students are invited to participate in all sports practiced at USAL. Both intercollegiate and non-competitive sport activities are open to exchange students. USAL also has a choir and an orchestra made up of students, professors and University staff.

Housing
USAL does not offer accommodation, students are responsible for finding their own lodging. The Office of International Students at USAL can assist students to find housing in residences, at private homes or by renting an apartment in the vicinity of the University. The cost of the lodging will be paid directly by the student either to the host family or landlord. It is important to note that it is ultimately the students responsibility to reserve, pay for and follow through with housing arrangements. Further housing details are shared with accepted students.

Costs
Please click here for the most recent cost estimate:
Argentina - USAL (Exchange Option) - SP16

Click here for more information on Program Costs and Financial Aid.

Resources
Argentina has always been heavily pulled towards its sophisticated capital, Buenos Aires. Often referred to as "the Paris of South America", Buenos Aires flaunts its European heritage with its grand boulevards and impressive architecture. Home to immigrants who never returned "home", the people of Buenos Aires or "porteños" are in love with theater, red wine and beef, public debate and the spectacle of politics.
Founded more than 400 years ago, the great city of
Buenos Aires
was recreated at the end of the 19th century after their great success in the "beef boom" of the 1880s. The once Hispanic, colonial buildings were leveled and replaced with the now striking architecture which echoes the image of
Paris
. Today, Buenos Aires is equally, a city of sights, if not more of atmospheres, where the main pleasures lie in peaceful strolls along the city street, engaging conversations in one of the many cafes or abundant "parrillas" or steak houses, or an exciting visit to the many theaters across town where viewers sit in awe of the passionate dancers of the Tango.
For more information on Argentina, including Buenos Aires, visit:
All About Argentina
USAL otherwise known as Universidad del Salvador (USAL), is a private Jesuit University, founded in 1956. With 18,000 students, enrolled in 74 undergraduate and 81 graduate degrees, this large, urban university is located in the heart of Buenos Aires cultural and business center. This ideal location allows for immersion not only into the university culture but the rich and exciting city. For more information on the university, please visit their main site:
Universidad del Salvador
In Pictures: Downtown Buenos Aires
<embed flashvars="host=picasaweb.google.com&capti1&hl=en_US&feat=flashalbum&RGB=0x000000&feed=https%3A%2F%2Fpicasaweb.google.com%2Fdata%2Ffeed%2Fapi%2Fuser%2F106578854996131388349%2Falbumid%2F5966981175136484993%3Falt%3Drss%26kind%3Dphoto%26hl%3Den_US" height="481" pluginspage="http://www.macromedia.com/go/getflashplayer" src="https://static.googleusercontent.com/external_content/picasaweb.googleusercontent.com/slideshow.swf" type="application/x-shockwave-flash" width="722"></embed>
Term

Year

App Deadline

Decision Date

Start Date

End Date

Spring

2017

10/31/2016

10/31/2016

03/01/2017

06/01/2017

Academic Year

2017-2018

04/01/2017

04/15/2017

TBA

TBA

Fall

2017

04/01/2017

04/15/2017

07/17/2017

11/17/2017


Indicates that deadline has passed