This page is the brochure for your selected program. You can view the provided information for this program on this page and click on the available buttons for additional options.
Argentina: Intensive Spanish at Universidad del Salvador (CIE)
Buenos Aires, Argentina
(Outgoing Program)
Intensive Spanish at Universidad del Salvador
(
CIE - Curso Intensivo de Español
)

Program Information | Requirements | Academics | Support Services | Housing | Cost Estimates | Resources

Program Information
<iframe align="right" frameborder="0" height="210" marginheight="0" marginwidth="0" scrolling="no" src="https://maps.google.com/maps?f=q&source=s_q&hl=en&geocode=&q=argentina+google+maps&aq=&sll=-35.675147,-71.542969&sspn=49.78721,93.076172&gl=us&g=Chile&ie=UTF8&hq=&hnear=Argentina&t=m&ll=-36.031332,-58.974609&spn=21.264197,26.367188&z=4&output=embed" width="255"></iframe>The Universidad del Salvador is a prestigious institution with fifty years of experience in providing the students with an integral and personalized education. A member of various international organizations, it is an Argentine pioneer in promoting faculty and student exchanges.
Students from around the world come to USAL to begin or further their studies. The Office of International Cooperation and Exchange Program has a variety of services to help students fulfill their academic and personal objectives.
The Spanish as a Second Language courses are taught by experienced language instructors who are also specialists in Argentina and Latin American literature and culture. They use modern and effective techniques, providing students with a comfortable and productive learning environment.

Requirements
Students are welcome from all academic backgrounds. The program welcomes Freshman, Sophomores, Juniors or Seniors. 3.0 GPA required and no previous language training is required.

Program Video (in Spanish):
<iframe allowfullscreen="" frameborder="0" height="542" src="//www.youtube.com/embed/qjrDFjmdBv8?rel=0" width="722"></iframe>

The Spanish as a Second Language Intensive Course (CIE), is an intensive four-week program that has been developed for those who wish to study not only the language in a Spanish-speaking country, but also its history, culture and social aspects.
This course guarantees the acquisition of the language through numerous activities, including written, oral and audio-visual exercises as well as arranged trips. The program seeks to develop communicative skills in different situations as well as to familiarize students about Argentine culture through the use of numerous complementary activities both inside and outside of the classroom. Classes meet Monday-Friday and includes 100 hours of class time (this includes social and cultural activities).
Classes are complemented by a series of outings: museums, typical "porteno" suburbs, cinema, theater, tango shows, all of which permit students to experience and learn about the history, culture and people of Buenos Aires.
There are three levels: Elementary, Lower Intermediate and Upper Intermediate. Students are assigned to a level based on a placement test which is administered at the beginning of the program.
Descriptions for each level can be found below. The descriptions are only in Spanish. Please bring them to your home campus language department for course equivalency purposes.

General course descriptions for the CIE program
Specific course descriptions:
Credits from the host university will be converted to SUNY credits as follows:
4 credits total for all components
1 SUNY credit per every 15 hours completed, reported as "horas totales"
48 hours = 3 credits
64 hours = 4 credits
Grades from the host university will be converted to SUNY grades as follows:
| | | |
| --- | --- | --- |
| USAL | Description | UAlbany |
| 10 | Sobresaliente | A |
| 8 and 9 | Distinguido | A- |
| 6 and 7 | Muy Bueno | B |
| 5 | Aprobado | C |
| 4 | Aprobado | D |
| 1,2,3 | Aplazo - Desaprobado - No Aprobo | E |

General Education Information for UAlbany students: credits earned on this program will automatically satisfy the International Perspectives requirement. Three credits of language study will satisfy the Foreign Language requirement. No additional approval is required for you to earn these General Education credits. You may file a request to have additional courses approved.


Support Services
All students studying abroad should attend the pre-departure session at UAlbany prior to going abroad. Orientation is also provided by USAL upon arrival. The Office of International Cooperation and Exchange Programs at USAL also offers student support in any area necessary.

Housing
USAL does not offer accommodation, students are responsible for finding their own lodging. The Office of International Students at USAL can assist students to find housing in residences, at private homes or by renting an apartment in the vicinity of the University. The cost of the lodging will be paid directly by the student either to the host family or landlord. It is important to note that it is ultimately the students responsibility to reserve, pay for and follow through with housing arrangements. Further housing details are shared with accepted students.

Costs
To view the most recent cost estimate, please click here:
Argentina - USAL (CIE Option) - SU 16

Click here for more information on Program Costs and Financial Aid.
Resources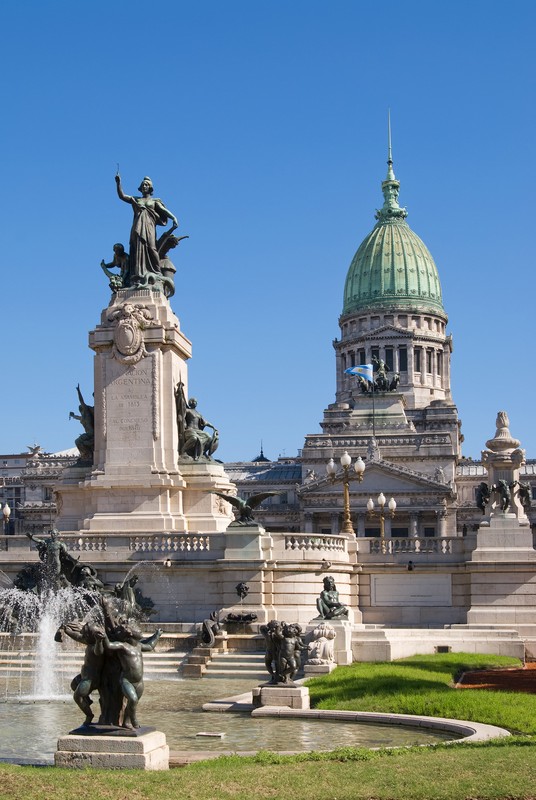 Argentina has always been heavily pulled towards its sophisticated capital, Buenos Aires. Often referred to as "the Paris of South America", Buenos Aires flaunts its European heritage with its grand boulevards and impressive architecture. Home to immigrants who never returned "home", the people of Buenos Aires or "porteños" are in love with theater, red wine and beef, public debate and the spectacle of politics.
Founded more than 400 years ago, the great city of
Buenos Aires
was recreated at the end of the 19th century after their great success in the "beef boom" of the 1880s. The once Hispanic, colonial buildings were leveled and replaced with the now striking architecture which echoes the image of
Paris
. Today, Buenos Aires is equally, a city of sights, if not more of atmospheres, where the main pleasures lie in peaceful strolls along the city street, engaging conversations in one of the many cafes or abundant "parrillas" or steak houses, or an exciting visit to the many theaters across town where viewers sit in awe of the passionate dancers of the Tango.
For more information on Argentina, including Buenos Aires, visit:
All About Argentina
USAL otherwise known as Universidad del Salvador (USAL), is a private Jesuit University, founded in 1956. With 18,000 students, enrolled in 74 undergraduate and 81 graduate degrees, this large, urban university is located in the heart of Buenos Aires cultural and business center. This ideal location allows for immersion not only into the university culture but the rich and exciting city. For more information on the university, please visit their main site: Universidad del Salvador

In Pictures: Downtown Buenos Aires
<embed flashvars="host=picasaweb.google.com&capti1&hl=en_US&feat=flashalbum&RGB=0x000000&feed=https%3A%2F%2Fpicasaweb.google.com%2Fdata%2Ffeed%2Fapi%2Fuser%2F106578854996131388349%2Falbumid%2F5966981175136484993%3Falt%3Drss%26kind%3Dphoto%26hl%3Den_US" height="481" pluginspage="http://www.macromedia.com/go/getflashplayer" src="https://static.googleusercontent.com/external_content/picasaweb.googleusercontent.com/slideshow.swf" type="application/x-shockwave-flash" width="722"></embed>
| Term | Year | App Deadline | Decision Date | Start Date | End Date |
| --- | --- | --- | --- | --- | --- |
| Summer | 2017 | 04/01/2017 | 04/15/2017 | TBA | TBA |